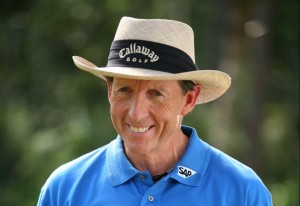 I can't wait until Saturday morning!  The one and only David Leadbetter will be LIVE and in studio for this week's show.  David is the most sought after instructor in the world andDavid has coached players to 19 Major Championship titles and over 100 individual worldwide tournament victories. Six of those players have even held first place in the Official World Golf Ranking. David is the author of 8 books and his newest book "The A Swing" will hit bookstores in May.  YOU DO NOT WANT TO MISS THIS WEEK'S SHOW!
Joining David in studio will be one of his students, Arlene McKitrick who is the world record holder for career tournament victories with an astonishing 208 titles worldwide!  Arlene's story is truly inspiring and her perspective on golf, life and health will put a smile on your face!
Arlene and David are both huge proponents of the Juvent Micro-Impact Platform and we'll also welcome Peter Simonson from Juvent to discuss this breakthrough technology!