Big day today on Tee It Up!  It was a real privilege for me to interview one of the biggest start of the LPGA, Morgan Pressel!  Not only is she a star on the course (Youngest ever to win an LPGA Major, Solheim Cup Veteran and Hero, Annually ranking in the top 20 in the world, etc…) but I think its safe to say that she is even a bigger hero off the course.  After losing her mother to breast cancer at the age of 13, Morgan started the Morgan Pressel Foundation and her efforts have raised millions of dollars to help fight that terrible disease.  Her 9th Annual Morgan & Friends Fight Cancer Tournament this past week raised 1 Million Dollars alone!  It really was an honor to have M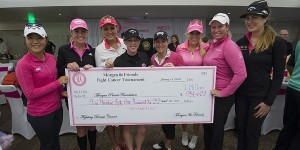 organ on the show! I want to encourage all my listeners to visit www.MorganPresselFoundation.com to find out how you can help make a difference too!
We're also joined by Jim Nugent, Founder of Global Golf Post and one of the pioneers of the digital golf revolution!  It's always great to get his unique perspective on the world of golf and of course, his thoughts on the 2016 PGA Tour Season.