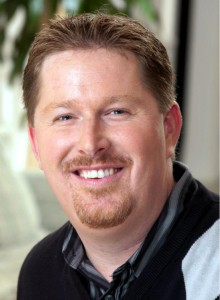 For twenty years, audiences have enjoyed hearing Nate Ditchfield perform the music of Broadway and the Big Band era as a member of the renowned Ditchfield Family Singers and the championship barbershop quartet My Three Sons.
Now on Saturday mornings, they're tuning in to WSRQ Sarasota for Tee It Up with Nate Ditchfield – "the number one source for everything golf on the Suncoast."
A scratch golfer and long ball hitter, Ditchfield explains, "I grew up with a golf club in my hand and have had passion for the game for as long as I can remember. I turned pro at the age of 16 and entered the PGA Program as an Assistant Pro at The River Club in Bradenton."
He gave up his aspirations to play tour golf in order to purse music with his family, and to raise his own family. He and his wife Regina have four young sons who are learning to love the game.
Two years ago, with golfing buddy Troy Larkin, Ditchfield launched the radio show that is quickly becoming one of WSRQ's most popular programs.
"I have three specific goals for every show," Ditchfield says. "Number one, entertain – if you don't smile during the show, I haven't done my job. Number two, inform – provide all the latest news and insight from the world of golf including all the major tours (PGA, LPGA, Champions Tour, Web.com Tour, and Symetra Tour), as well as the amateur world and local golf scene. And number three – enrich. On the show you'll hear interviews that give you an inside look at the world of golf from the people who make it so unique! Interviews with authors, caddies, coaches and teachers, volunteers, youth golf organizations, non-profits, sports psychologists and more!"
You'd think it might be hard for Ditchfield to name his favorite moment on the show so far, but he doesn't hesitate:
"I've had the privilege of interviewing PGA & LPGA tour players, the president of the USGA, rising stars and NY Times bestselling authors, but the highlight of my career came at our live broadcast from the Concession Cup where I had the opportunity to meet and interview the Golden Bear himself, Mr. Jack Nicklaus! He was as real and as gracious as anyone I have ever interviewed and it really was a dream come true to meet him!"
In addition to its coverage of the professional tour, Tee It Up broadcasts live from local  tournaments and charity events. Area businesses provide prizes for contest and giveaways. Each week, Ditchfield reviews local courses and puts up videos and pictures on the show's Facebook page, www.facebook.com/TeeItUpWithNateDitchfield.
Visitors and seasonal residents say that when they're out of town, they listen online – it helps them stay connected to their favorite golfing community.
As Ditchfield observes, "There's no place on earth quite like this one for people who love golf. I'm honored to have the opportunity to share it with listeners each week."