The dust is starting to settle on one of the most epic and dramatic final rounds in recent Open Championship history! Your winner and Champion Golfer of the Year is Zach Johnson and personally, I couldn't be happier.  Don't get me wrong – a Jordan Spieth victory would have re-written the history books and made this year's PGA C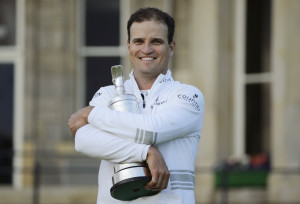 hampionship at Whistling Straits the MUST SEE sporting event of the year (Super Bowl not withstanding).  Speith is playing on a level that very few have ever reached, joining the company of Woods, Nicklaus, Palmer & Bobby Jones.   The primary difference is that Spieth is much younger than were the aforementioned greats of the game when they matched these feats and I have a feeling that Jordan has only scratched the surface of perhaps the greatest potential of his generation.
As Spieth's par putt slipped by the cup on 17 and his approach spun back off the green on 18, it was clear that the ever-elusive Grand Slam was not to be.  To me, that is where a poignant and significant transformation took place and brought a moment that I believe we will look back on one day as more significant than some of young Spieth's records. The reigning US Open & Masters Champion stuck around and became one of us … a spectator.  While his friend, mentor and "big brother", Zach Johnson was showing the world what he was made of, Spieth showed the class and maturity that so very few professional athletes today seem to be capable of demonstrating.  For him to stick around and greet Johnson on the 18th green was profound.
As for Johnson, there can be no doubt that he has assured his place as one of the greats in the game. Very few men in history can say they have earned both the Claret Jug and a Green Jacket, and to claim the jug at St. Andrews no less, well that's the icing on the cake. Johnson's performance and the respect his peers have for his game is only topped by the respect they have for the man himself, both on and off the course.  Zach Johnson truly is the Champion Golfer of the Year!