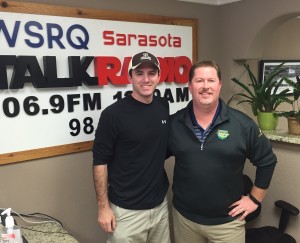 After trying to connect for quite some time, it was great to finally have SNN Sports Director Trevor DeGroot in studio this morning to get his take on the 2016 Season and much more! Great discussion on how The Olympic Games in Rio are a great opportunity to globally bring fans/viewers to the game of golf that typically would not tune in otherwise. You can catch Trevor every night on SNN here in Sarasota on Comcast, Verizon and Dish Network!
We also had renowned golf writer Andy Brumer calling in from California to discuss his new book – "The Poetics of Golf".  I've read a lot of golf books over the years, but found this to be unique, refreshing, and a reminder of how special the game of golf really is! Special thanks to Andy for getting up so early (5:45AM California time) to give us his thoughts. Click on the picture of the book to order your book today and congratulations to Troy from Bradenton who was the winner of the autographed copy!
Next week we'll be LIVE from Innisbrook for the PGA Valspar Championship and up at Bay Hill for the Arnold Palmer Invitational the week after!